Keep loan officers always connected to the Encompass® Digital Lending Platform, from wherever they are
Encompass LO Connect gives your loan officers the competitive advantage of providing the highest level of customer service, and the ability to originate and close loans faster… from anywhere, at any time.
Encompass LO Connect is the Encompass mobile solution for LOs on the go
Instead of adding more software or complexity, Encompass LO Connect gives your loan officers secure, real-time access to Encompass… from their fingertips, from any mobile device.
Enhance borrower communications, stay engaged, and deliver a superior customer experience
Get always-on, real-time access to move loans forward
Connect with agents, referral partners, credit reporting agencies, and underwriters, from a single system of record
From anywhere, at anytime
Price loans and lock in pricing with Encompass Product & Pricing Service or Optimal Blue
Seamless automated underwriting with Fannie Mae's Desktop Underwriter® or Freddie Mac Loan Product Advisor℠
Ability to request eConsent and eSign loan documents
Send eligibility letters to borrowers
Always compliant. Always secure.
Execute with confidence, trusting the highest levels of security and compliance throughout the loan lifecycle.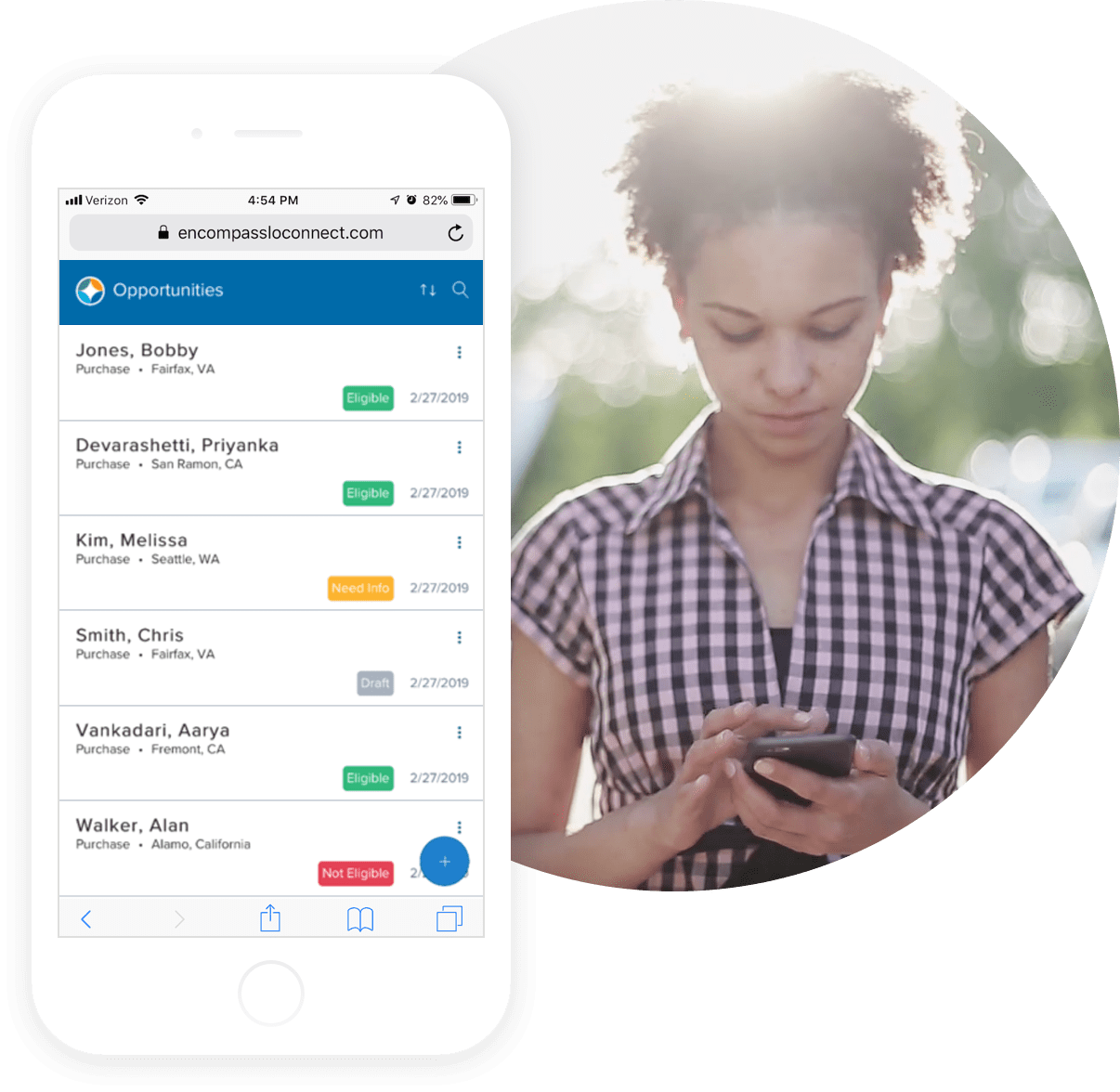 "We were looking for a mobile solution for our loan officers that let them respond quickly to borrowers that would translate into more deals coming through. Encompass Loan Officer Connect enables our LOs to get access to Encompass anytime, anywhere and provide borrowers a level of service they can't get anywhere else. It's given us a huge competitive advantage and helped us increase origination volume, decrease time to close and more effectively recruit loan officers."

Sam Lerner

Vice President, Lending Information Systems

Norcom Mortgage